Netflix'ın büyük yankı uyandıran dizilerinden bir tanesi olan Daredevil ilk sezonun yayınlanmasının ardından çok beğenildi ve yayınlandığı internet kanalında milyonlarca izlenme ile büyük bir başarıya imza attı.
Marvel imzalı Daredevil'ın yeni sezonu için fragmanlar yayınlandı. Dizinin ikinci sezonu 18 Mart'ta izleyicisi ile buluşacak ve 13 bölüm olarak Netflix üzerinden yayınlanacak.
Ayrıca dizinin yönetmen koltuğuna iki önemli isim daha katıldı Doug Petrie (Buffy the Vampire Slayer) ve Marco Ramirez (Sons of Anarchy) ünlü isimlerin katılması ve ilk sezonun hareketliliğini göz önüne alınınca Daredevil uzun süre ekranlardan ayrılmayacak gibi gözüküyor.
Bu sezon Punisher adındaki düşmanı ile karşı karşıya gelecek olan Daredevil, ilk sezona göre çok daha güçlü ve acımasız bir düşman ile savaşacak. Çok daha fazla kan içermesi beklenen dizinin, yayımlanan yeni fragmanı da bu durumu kanıtlar nitelikte. (Punisherı'ı yukarıdaki resimdeki aktör Jon Bernthal canlandırıyor.)
Tabi Punisher her ne kadar acımasız, hatta aşırı şiddete başvuran bir karakter olsa da aslında özünde oldukça acıklı bir hikaye yatmakta. Son derece mutlu bir aile babası olan Frank Castle'ın karısı ve kızı mafya tarafından vahşi şekilde öldürülünce sigortaları yanıyor ve "bütün kötüler mezara" diyerek eline silahı alıyor.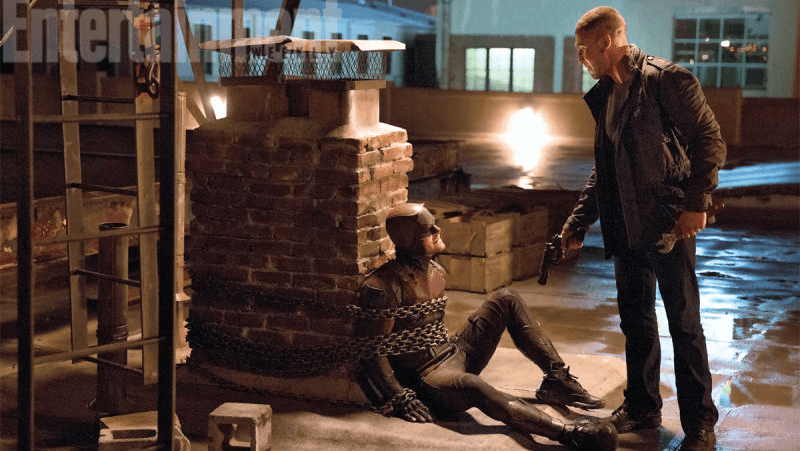 Aslında her iki kahramanımızın da istedikleri şey aynı; kötü adamları ortadan kaldırmak. Fakat Daredevil bu işlemi kötü adamları hapse koyarak yaparken, Punisher onun yerine kötü adamları öldürüyor. İsmide bu yüzden Punisher olsa gerek.
Ayrıca Daredevil'da da Punisher'ın bu hikayesini göreceğimiz dizinin fragmanında da belli edilmiş.
Bu arada bu fragman "Part 1" şeklinde geçmekte. "Part 2" fragmanı ise 25 Şubat tarihinde gelecek. O fragmanda da muhtemelen ikinci sezonun bir diğer merak edilen ismi Elektra'yı görebiliriz. Punisher'ın sadece Daredevil'ın ikinci sezonunda karşımıza çıkıp kayıplara karışmayacağını da belirtelim. Bir ay kadar önce, Marvel, Punisher dizisini onayladı.